Cautionary Notes for Usage

About the Bus Services
Delays in transit may occur due to poor weather or traffic conditions. Please make sure that you make your reservation with an ample amount of leeway should such a situation arise. We do not offer compensation to passengers due to traffic delays.
Depending on the bus in use, stops at SA (service areas) are also made. The crew will inform you of the bus's re-departure time from the SA upon arrival, so take care not to be late in getting back to the bus.
Please refrain from standing or moving about while the bus is in motion. In addition, please fasten your seat belt at all times.
When vehicle styles are different (no in-bus toilets, 4-seat rows, etc.), with temporary buses, there will be restroom breaks during your trip.

Regarding our Luggage Policy

We take no responsibility for any loss or damage to luggage on the bus or in the lower compartment.
We ask that all passengers hold on to their personal valuables.
Bringing luggage onto the bus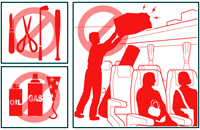 Carry-ons that are allowed on the bus
As for the baggage which we can bring into the inside of car of bus, it is thing of size to enter rack or thing of size of degree that we can manage in your seat.
Carry-ons that are not allowed on the bus
About baggage judged to trouble of storage space and other customers, I may take in trunk.
Loading Luggage into the Lower Compartment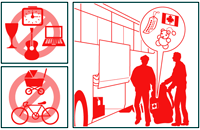 Carry-ons that are allowed on the bus
Please place all suitcases and bags that won't fit on the bus rack into the lower compartment.
We recommend that thing becoming mark by yourself is attached beforehand to prevent collecting mistake of baggage. In addition, please feel free to contact when you do not have thing becoming mark as main bus terminal we bus stops (Fukuoka Airport international terminal, Nagasakieki-mae(Nagasaki Sta.) terminal) and crew have tag always ready.
Carry-ons that are not allowed on the bus
Fragile items such as clocks, PCs, glassware, and instruments will not be allowed.
Because trunk space is limited, unfoldable strollers and bicycles are not allowed. (※)
(※) Due to the chance of damaging other luggage on board, foldable bikes aren't allowed, either.
Luggage that is not allowed on the bus or in the lower compartment
There is not jikomi of thing which can become cutlery and other weapons and thing which might endanger other customers.
Dangerous materials (flammable material, explosive) to establish in laws and ordinances cannot do carry-on.
Regarding Pets on the Bus
No pets allowed, excluding assistant animals for the disabled.
You can bring in in trunk only when we put in the exclusive basket, and damage or measures that are not damaged are made on baggage of other customers beforehand, but please confirm the next instructions.
Instructions for when loading in the lower compartment
※We will have you compensate in owner you by any chance when we are damaged and damage baggage of other customers.
※As the trunk does not keep an eye and includes durability to place without air conditioner again, please note that our company cannot take responsibility by any chance when abnormality occurs to pet.
In Order for a Pleasant Ride for All

Please turn your mobile phone to silent mode and refrain from making or taking any calls while on the bus.
Please make sure that your phone does not emit any sounds or ringing when utilizing mail or chat apps.

This rule applies to all media, including mp3 players, mobile TV, game consoles, and so forth.
Please make sure that the sound cannot be heard by those around you.

Smoking of any kind is prohibited on the bus.
Regarding Tickets
Hand the ticket to the crew at boarding time..
Please keep in mind that tickets that are lost must be paid for once again in cash.